The cheerleaders still have a limited amount of Bears masks for sale. They are $10 each. Please contact the elementary office if you are interested in purchasing a mask.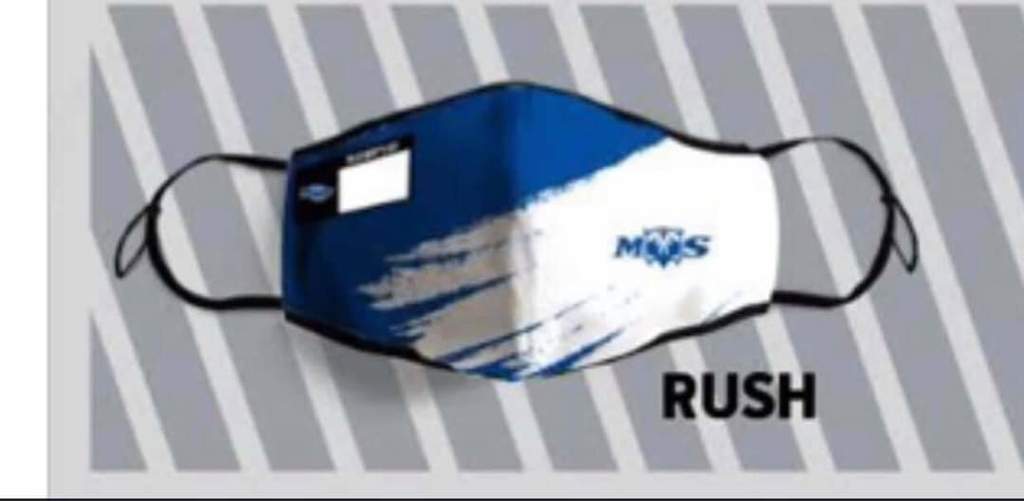 Bears and Lady Bears have added a game Friday night @ Rose Bud at 4:30. Game order will be JG,SG,SB. Ticket information will be released as soon as it is available.

High School Announcements 11-2-2020

This Friday night's away games at Armorel have been rescheduled for January 8, 2021. The Armorel game at home scheduled for January 8 has been moved to January 18. Tickets purchased for the cancelled game will be automatically refunded to your account/credit card. We are looking to schedule another game later in the week. Stay tuned!

The Mammoth Spring Band has been working hard. They have done a wonderful job performing the Night on Bald Mountain. Thank you Mr. Wiltz for providing the YouTube Link.
https://youtu.be/ChaAo77qbYg

2020-21 Senior Superlatives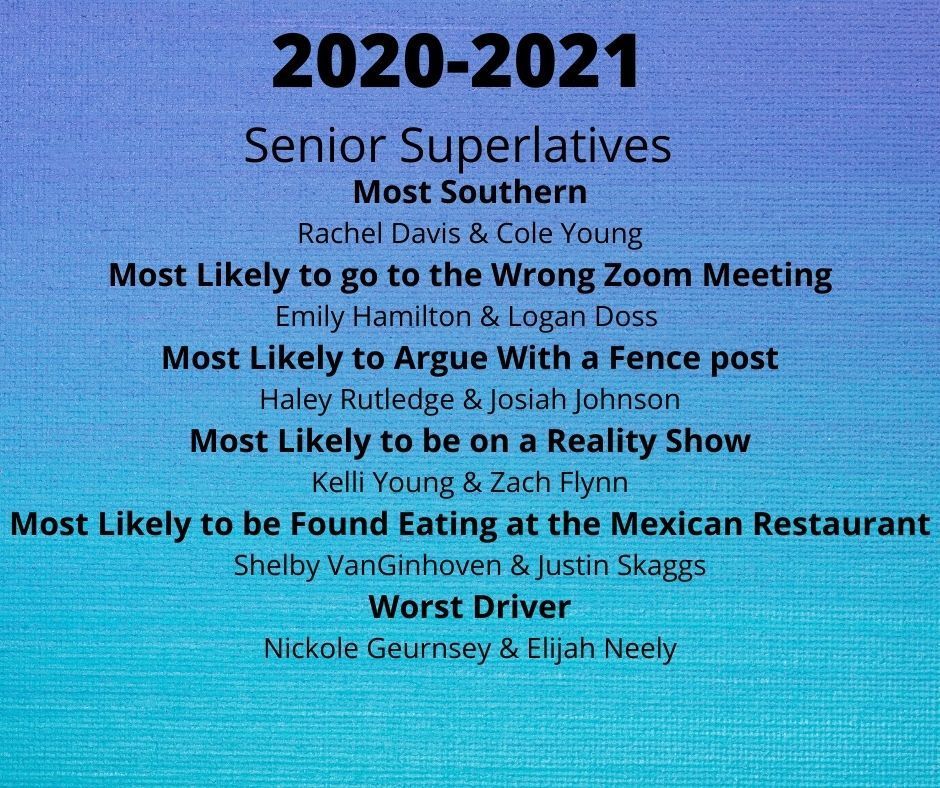 Mammoth Spring Homecoming Coronation will begin at 5 pm tonight. There are a few Coronation Tickets left. Tickets may be picked up at the Elementary Office today from 12 pm to 3 pm. Tickets will be distributed on a first-come-first-serve basis until they are gone.

Congratulations to this week's Millionaire Club!

There are still tickets available for the homecoming crowning. Please contact Robin VanGinhoven, our school nurse, if you would like tickets. This is for the crowning only, not the ball games.

ALL (in-person and virtual) 7th -12th grade students will vote for their 20-21 Homecoming Queen beginning Tuesday, October 27th. Voting will conclude Wednesday, October 28th at 3:00 p.m. The ballot was sent to students' school emails. If a student did not receive a ballot, contact Mrs. Holland or Mrs. Estes before noon Wednesday. All 10th, 11th, and 12th grade (in-person and virtual) students will be voting for Senior Superlatives beginning Tuesday, October 27th. Voting will conclude Wednesday, October 28th at 3:00 p.m. The ballot was sent to students' school emails. If a student did not receive a ballot, contact Mrs. Holland or Mrs. Estes before noon Wednesday.

Mammoth Spring School District has free tickets to the Coronation for Friday night's Homecoming game. Tickets will be given out on a first-come, first-serve basis today at 5:00 pm in front of the main gym.

Elementary classes will be having their Halloween parties on Friday, October 30. Unfortunately, parents will not be allowed to attend and outside treats/snacks will not be allowed this year. We will be providing goodie bags for each of our students. We know so many parents look forward to these events every year and we wish you could be with us. Thank you for your continued efforts to keep our students safe and healthy!

Next week is Homecoming/Red Ribbon Week! Please find the schedule for the dress up days below. They are the same for high school and elementary, except for Wednesday (class color day).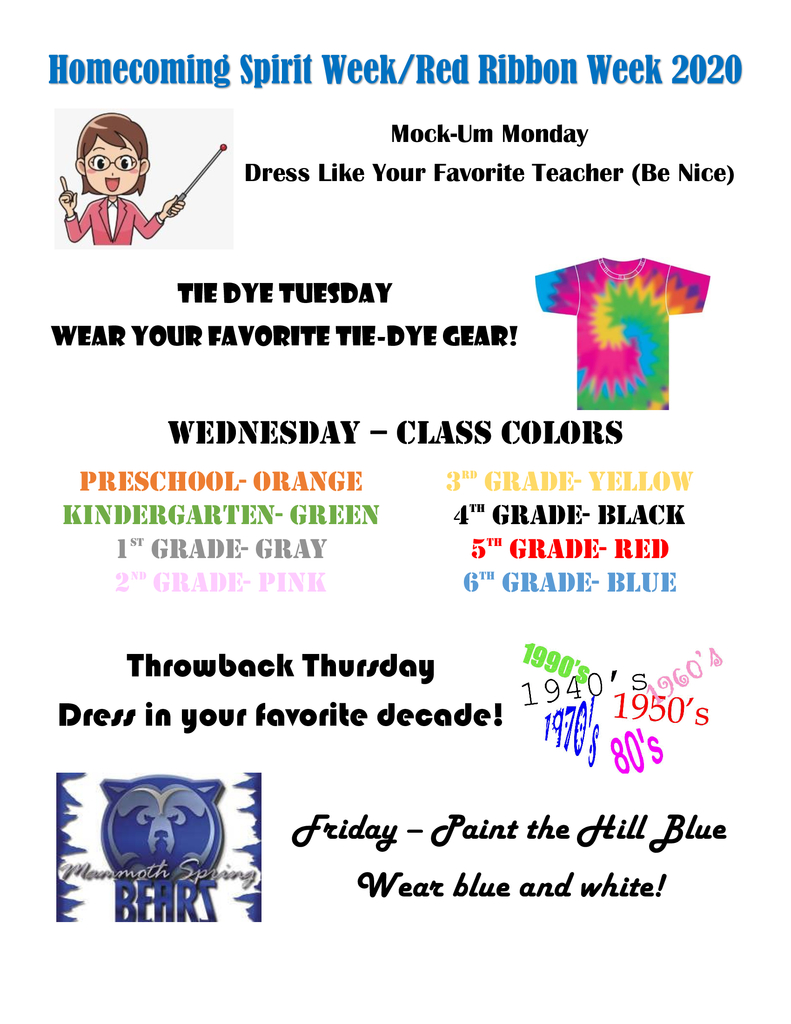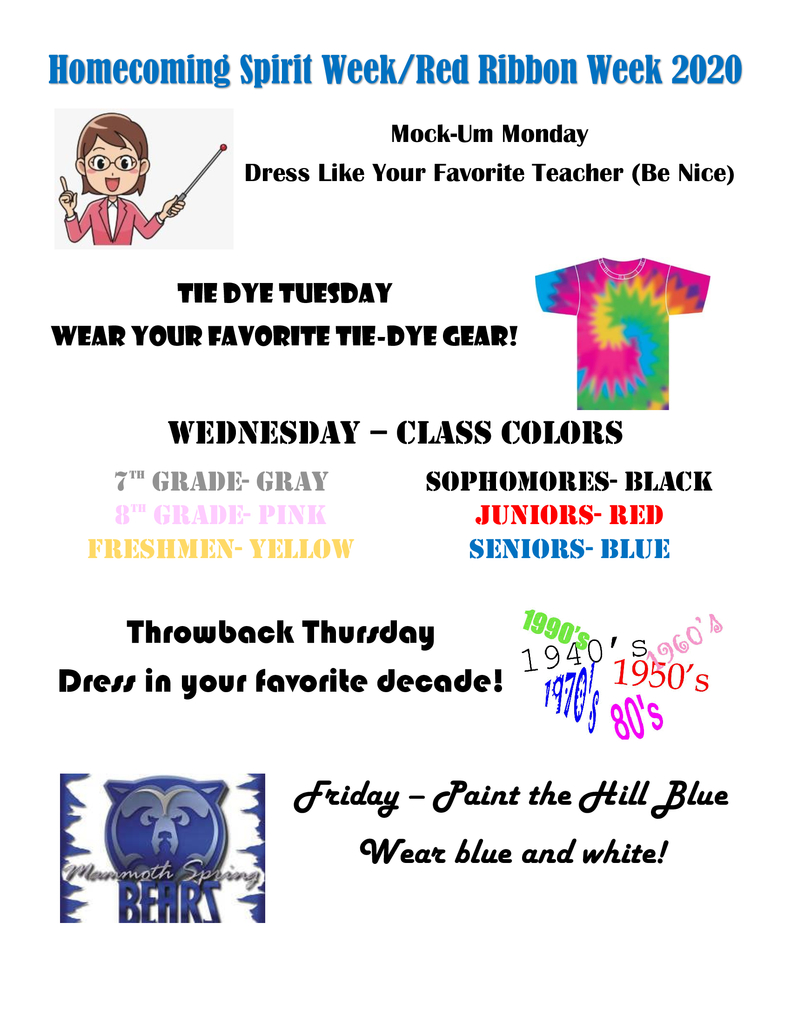 MSHS will have a "Virtual Day" on Friday, October 23rd. Parents may choose to send their children to school or keep them at home that day. All teachers will be "on campus" to assist students the entire day. Going "virtual" for one day allows students to practice working independently on their Google Classroom assignments for that day and communicating with their teachers via email or online meetings. This experience also provides the opportunity for students and teachers to identify problems, glitches, and obstacles that may arise if MSHS does "go virtual" for any reason. Again, parents may choose to send their children to school on Friday the 23rd or let them remain at home. In either event, students will participate in their full day of scheduled learning activities in the classroom or at home.

Grades K-12 will be having a "virtual day" on Friday, October 23 to test our virtual learning platform in the students' home environment. During this virtual day, students are not required to be present in the building. They will instead do their assignments from home. However, if your children need to come to school, buses will be running and meals will be served. Preschool will remain on their normal schedule, as they do not have a virtual option. If you do not have internet access at home, please call 870-625-7213 to notify the school no later than Wednesday, October 21. This will allow us plenty of time to make the appropriate accommodations for those students with no internet access.

Monday night's basketball games with Calico Rock have been cancelled.

As of tomorrow, the breakfast menu is subject to change. We will try to update the app and website with any changes as soon as we can. Thank you!

Picture re-takes/sports pictures that were scheduled for this week have been postponed to a later date in November or December. We will announce the exact date as soon as the photographer lets us know.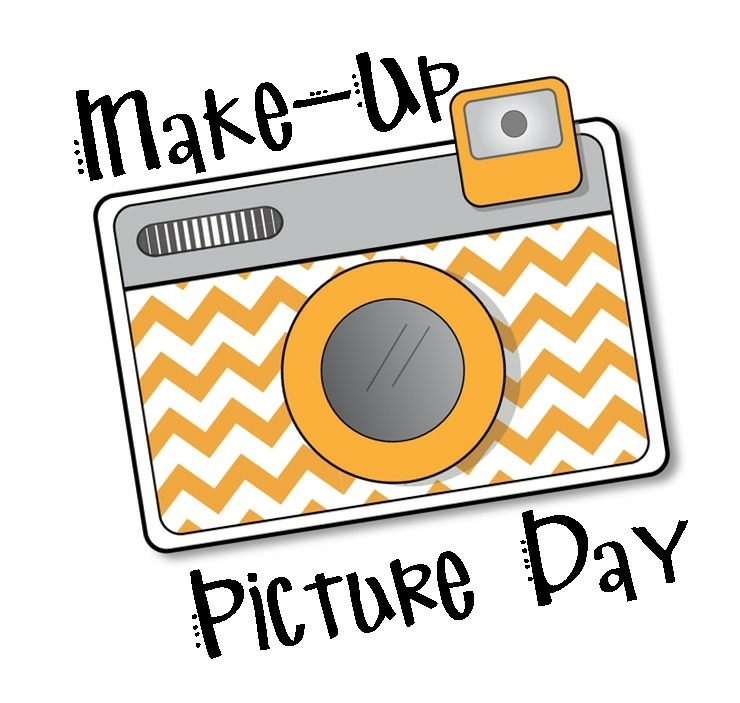 Financial Aid Night is tonight from 5:30-6:30 in the High School Library. Ozarka Financial Aid staff will be on hand to answer questions and help seniors fill out their FAFSA. Parents of seniors are encouraged to attend. Masks and social distancing are required.

Due to the increasing number of COVID-19 cases in our area, the Mammoth Spring School District has made the decision to cancel all athletic events for the week of October 12-16. We are currently working on our COVID plan on campus to allow for more social distancing among students and staff. We ask that everyone be mindful of social distancing and wearing masks when out in public places. We thank you all for your continued support and efforts to keep our students and staff safe and healthy.